About Us
The Operation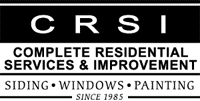 CRSI has specialized in House Painting, Replacement Windows, and House Siding in Atlanta, GA since 1985 (painting since 95).
The Company's Full-Time Experienced Crews execute One Job at a Time: NO SUBS and NO PART-TIMERS.
The 2 owners, Joe Tichenor (Siding-Windows) and Matt McCurdy (Painting) estimate every job free of charge, provide detailed written estimates and oversee every Project themselves from start to finish. The crews arrive on time and prepared to work. Jobsites are maintained in an orderly fashion and cleaned thoroughly upon completion.
CRSI has built the business based on referrals from its truly satisfied customers with the entire "CRSI EXPERIENCE"
One Job at a Time.
References
An extensive list of References is provided with every Estimate and the Company encourages Homeowners to call.
Payment
No Deposits-Balance Upon Completion and Satisfaction.
Request a free estimate by using our simple and short form.