Exterior & Interior Painting and Staining Wood Replacement/Restoration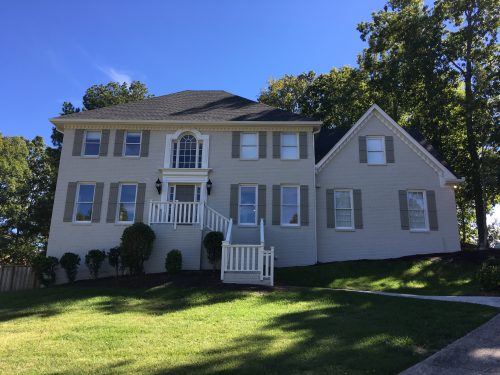 CRSI firmly believes in the importance of Extensive & Thorough Preparation for All Painting and Staining Projects. In advance of any Painting/Staining, all surfaces must be thoroughly cleaned. Scraping, Glazing, Spackling, Sanding and Priming are a must for maximum protection of surfaces.
View recently completed CRSI Projects:  Photo Gallery
The CRSI crew protects and covers surfaces and surroundings maintaining a clean and efficient workspace and is considerate of the homeowner's schedule, personal possessions, family members, pets … The Company completes Projects in a timely fashion with minimal inconvenience.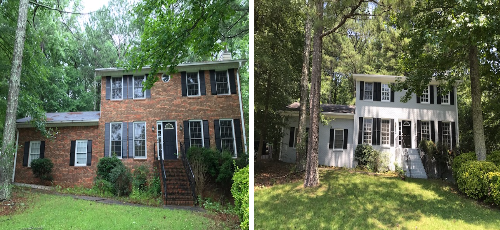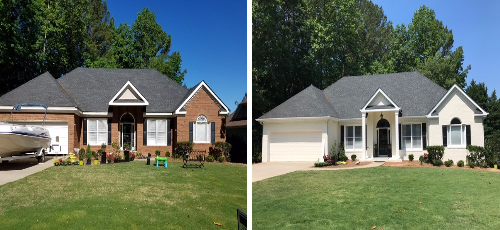 CRSI uses high quality Exterior/Interior Paints & Stains from  Sherwin-Williams and Benjamin Moore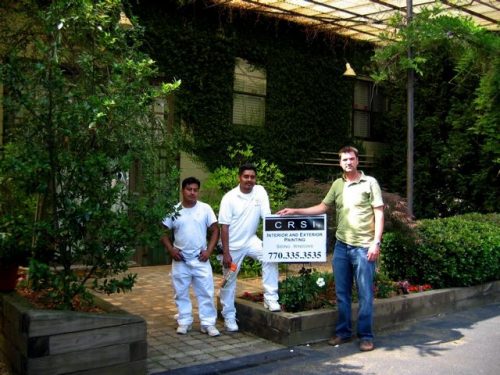 Wood Replacement/Restoration
Siding and Corner Boards
Fascia and Soffits
Window Trim
Brick Molding
Decks and more…
CRSI experienced craftsmen have the necessary carpentry skills to replace any damaged wood on the interior and exterior of homes. Every house is thoroughly inspected by Matt McCurdy, owner of CRSI (painters in Atlanta), during the initial estimate phase of the project. In addition, all lumber and materials are handpicked for quality control. All replaced wood is primed on both sides to encourage maximum protection. Thorough inspection, wood replacement and restoration at the onset of the project ensures the longevity of the painting and staining efforts.
Deck Preservation-Staining
Decks are in constant need of attention due primarily to the effects of the sun and environment. Although some manufacturers claim five years or more protection with their products, a good deck stain application normally has a two to three year life span. In addition, decks should be properly washed at least once yearly. It is not always necessary to use high-pressure cleaners to maintain decks. Deck cleaning agents can be found at home improvement stores and used with a garden sprayer and hose. CRSI has years of deck preservation experience to protect the homeowner's investment and can also replace damaged boards.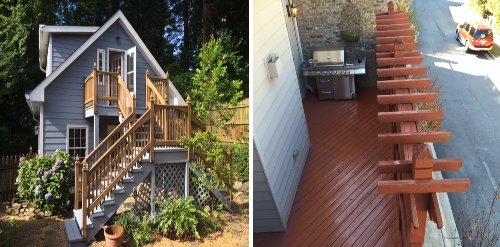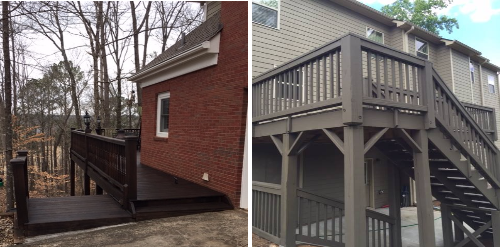 Pressure Washing
Home Exteriors
Driveways
Sidewalks
Decks
CRSI carefully cleans the exterior of every home before the painting process begins at no additional charge. The purpose of a thorough pressure washing is to remove any dirt, grime and mold from the surfaces to be painted/stained. In addition, CRSI is mindful of the surroundings (plants, windows, cars, outdoor furniture etc.) during the process.
CRSI also offers the option of pressure washing homes after painting/staining as part of a yearly maintenance. Homes are similar to automobiles in requiring frequent cleaning to maintain the integrity of the surface.
Garage Floor Epoxy Coating
CRSI can turn a garage floor into a showroom-at an affordable price. Our multi-step process involves degreasing, acid etching and application of a 2 part epoxy*. Garage floors can be customized with an array of different color choices available.
Applying epoxy to garage floors adds a layer of protection, beauty and value to your home. In addition, the strong surface avoids being compromised by "hot tire pick-up". The epoxy is easy to clean and spilled oils can be wiped off without any damage**.

* Previously failing painted garage floors must be stripped to bare concrete prior to the multi-step process.
** Any spills should be wiped immediately.
Be the envy of the neighborhood and call CRSI for a garage makeover.
______________________________________________________________